Things to know about Wishbeads eGift Cards:
Wishbeads eGift Cards are digital and sent to you instantly via email.


NO physical gift card will be snail-mailed to you.


Your gift card will be emailed to you, the buyer; it's up to you to pass your gift card along to your recipient, and our system doesn't allow us to do that for you at this time.
How to buy a Wishbeads eGift Card:
Click here to order a Wishbeads eGift Card, select a dollar amount, add it to your cart, and complete your purchase as you normally would.


Please note that you will be asked to enter a shipping address at checkout, but your gift card will NOT be shipped—it will be emailed to you.


You'll receive an email containing your printable gift card. This email is sent to YOU, the buyer, and is NOT automatically sent to your giftee.


If you purchase multiple gift cards in the same order, you will receive each gift card in a separate email. Take note of the gift card number on each one so you don't accidentally send the same gift card to multiple people. 😉
How to give a Wishbeads eGift Card:
Print out your gift card and tuck it into a greeting card, or


Simply forward the email containing the gift card to a friend so they can use it right away!
How to spend a Wishbeads eGift Card:
On the checkout page, enter your gift card number in the "Gift card or discount code" box and click "Apply".


Check that your total has been updated to reflect your gift card discount. If not, double-check to make sure that you entered your gift card number correctly.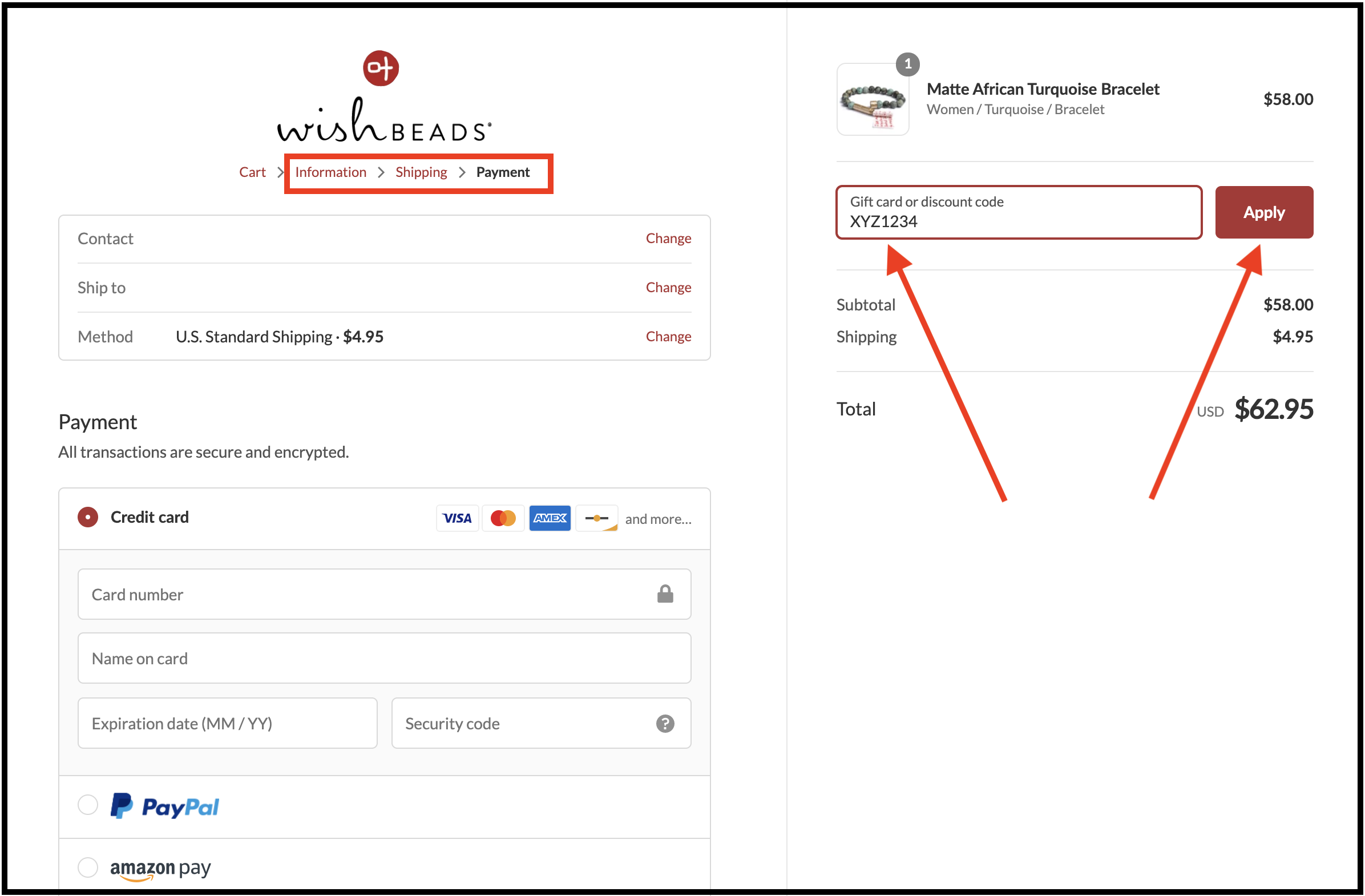 Wishbeads eGift Card policies and limitations:
Our eGift Cards are electronic and sent to you via email.
There is no physical gift card that will be snail-mailed to you.
Gift cards cannot be used to purchase another gift card.
Gift cards cannot be reloaded.
Gift cards never expire.
Gift cards cannot be redeemed for cash.
Any unused balance on your gift card can be used on a future purchase.
If your gift card doesn't cover your entire purchase, you'll be asked to choose a secondary payment method at checkout.
Gift cards are only valid on purchases made at Wishbeads.com.
Gift cards can only be used in countries we ship to.